You may not believe this but I have never had a hazelnut flavored coffee. I must be the last person in the world, right? Well, Today that will come to an end.  I am trying hazelnut cream coffee by Berres Brothers.
As the coffee is brewing, I can smell the nutyness of the brew in the air. So much that it woke up my wife who was fast asleep.  This hazelnut flavor is a light coffee brew with a buttery smooth hazelnut flavor.  I really love nuts, my favorite nut is my wife, just kidding!  My favorite nut of all time is the walnut. I love it in chocolate, cereal, coffee, by itself and as a flavor for peanut butter.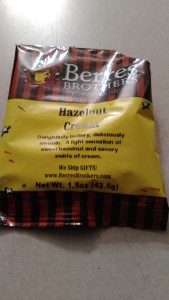 Back to the review.  This brew has a smooth rich taste of nuts.  No bad after taste. The nuty flavor stays on your tongue for a while with each sip. I can taste a very slight bit of bitterness at the end of each sip. But it's disguised by the rich flavor that lingers in your mouth.
I would recommend this coffee to my readers and I believe that I may even go purchase this one again very soon.  I hope this review was helpful for my readers.  I'm off to get my second cup of coffee. Have a good morning where ever you are.