Today I will review Boston's Best brand called "Jamaican Me Crazy".
This brew has a nice aroma brewing. It's a medium blend of Arabica beans. Nice color, not very light or too dark.  This brew reminds me of pancakes at the ihop.  The taste is similar to sweet rolls or pancakes.  It has hints of caramel, vanilla and mocha.  The caramel is the strongest taste, along with the vanilla. If you like pastry then you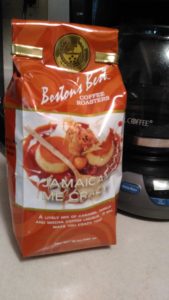 will like this brew.
Jamaican Me Crazy doesn't have a bitter taste, it's rather smooth. The taste lingers on the back of your tongue just enough that it's not over whelming.  I added my sugar and cream and some cinnamon and this coffee flavor exploded into a taste of french toast.  You need to give this one a try. It can be purchased at www.bostonsbestcoffee.com.  There are other flavors there for you to explore and maybe you can send me a message about your experience with this brew. I know that I will be buying more from this brewer.