Coffee Cappuccino Creams with Cream and Sweet Coffee Sauce
If you are a coffee fan, this is the coffee dessert – the best ever! It is based on an old-fashioned recipe for honeycomb mold, which sometimes separates into layers but sadly often doesn't. You can make this and serve it in Irish coffee glasses or plain glasses. The contrast of the unsweetened coffee cream mingling with the sweetened sauce and a generous amount of whipping cream is just gorgeous.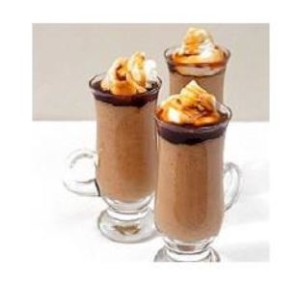 5 fl oz (150 ml) double cream
1/4 cup espresso coffee
1 x 11 g sachet gelatin powder
10 fl oz (275 ml) whole milk
3 large eggs, separated
1 rounded teaspoon corn flour
7 fl oz (200 ml) crème fraiche
For the sauce:
1 cup espresso coffee
6 oz (175 g) golden granulated sugar
You will also need 6 x 7 fl oz (200 ml) serving glasses.
Begin by soaking the gelatin:
Pour 5 fl oz (150 ml) of water into a small bowl, sprinkle in the gelatin and let it soak for 5 minutes. Meanwhile, pour the milk into a medium saucepan and place it over a gentle heat. Then, in a bowl, whisk the egg yolks and corn flour together and, when the milk is very hot and just about to simmer, pour it over the egg yolk mixture, whisking as you do. Now return the whole lot to the same saucepan, adding the soaked gelatin and coffee powder, then return the pan to the heat and continue to whisk until the custard is thickened and the gelatin and coffee are completely dissolved. Remove the pan from the heat and pour the custard into a large mixing bowl, leave it to cool, then whisk in the crème fraîche.
In another bowl, using a clean whisk, whisk the egg whites to the soft-peak stage. Now fold 2 tablespoons of the egg whites into the coffee custard to loosen the mixture, then gently fold in the rest. Pour the mixture into the glasses and leave, covered with cling film, in a cool place for about 2 hours, then chill in the fridge until needed.
To make the coffee sauce, gently heat the sugar and 8 fl oz (225 ml) of espresso together and whisk till all the sugar granules have completely dissolved, and then simmer gently for 15 minutes without a lid, until it becomes syrupy. Next, transfer it to a serving jug to cool. Meanwhile, whip up the double cream to the floppy stage and, when you're ready, serve the coffee creams topped with whipped cream and the coffee syrup poured over.
Serves 6