OK, back to the basic reason that I started this blog. "Reviews" of all the different coffee brands in the world.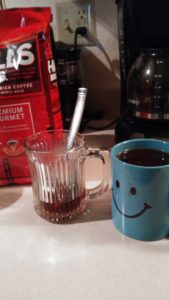 Today I am reviewing "Hills Bros Premium Gourmet".
I purchased the whole bean package so I can get the best freshest cup of coffee to review. I have to say, I really love this coffee! From grinding to last drop this was a very nice couple of cups of coffee. I set the grinder on medium grind. This made the brew perfect with no bitterness. Well, every coffee is bitter to a point but some are so mild that the bitterness is gone once you swallow and your left with a great taste on your pallet.
I had it black as well as with a couple tsp of sugar, both were great cups of coffee. I did taste the hint of Chocolate they claimed was in it. Then I waited for the coffee in the pot to get cold to try it as a cold brew. Again, it was a good cup of cold brew too. Blend it with some ice and maybe some fruit and make a nice Ice Coffee.
I have to say that this Hills Bros Premium Gourmet is going to be a great all around brand for every type of coffee you make other than espresso.
I am always looking for new brands to try. Subscribe to this blog to stay updated on the newest reviews of coffee from around the world.