I am very excited to review the Lavazza Classico coffee today.
I have heard a lot of great things from the internet and Youtube about this brand. Lavazza is a favorite and widely sold brand of coffee around the world. Now it's my turn to review it here for you.
First, when you open the pre-ground package, it doesn't have a strong coffee aroma. I did expect more aroma from a premium major brand.  I also noticed that the coffee was very finely ground for a non espresso grind and light in weight.  The color of the coffee is a nice dark color. Lavazza Classico is a medium blend coffee bean.  It should perk you up in the morning.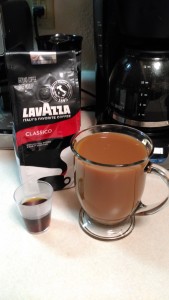 When brewed, again, there isn't a strong aroma of coffee filling the room. The aroma from my cup is pleasing though.  I tried it black first to see if there was any bitterness. There wasn't.  This coffee is pleasantly smooth and tastes great black.  So much so, that I would drink this coffee black even though I prefer cream and sugar.  No bad after taste at all.  The taste lingers on the pallet quite nicely.
I picked up this Lavazza Classico from Pick & Save in Oshkosh, Wisconsin.  I'm sure you can get it at your local major supermarket.  I couldn't find it at Walmart, so you will have to go the major supermarkets for it or a specialty store.  It was priced at $8.99 here in WI. and I look forward to getting another variation of Lavazza the next time I go shopping.
I give this coffee a 5 star rating, even though the aroma was less than satisfactory because the flavor was outstanding.  Try it for yourself and leave a comment to let me know what you thought of it.  Please check out my other coffee reviews.