Today I review the Steep & Brew's Amaretto French Roast. They are roasters from Madison Wisconsin. I've reviewed other flavors from them and enjoyed them. This package makes up to 6 cups of coffee, just adjust the amount of water you use to make it strong or weaker.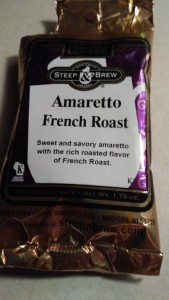 Opening the package and while brewing, this flavored coffee smelled out of this world. If your an amaretto drinker, this coffee is for you.  I found the brew to be sweet, fruity and rich with flavor. Some may say strong flavored but I like it that way.  I drink a toasted almond drink when out on the town.  It consists of amaretto and Bailey's over ice or straight. So, I find this coffee very satisfying. Take this review with a grain of salt.  Just my opinion, remember.
Sipping this brew gives you a nice flavor as soon as it hits the tongue and stays with you as it leaves the back of your tongue or gullet.  There is NO bitter after taste. Rather pleasing and delicious. I tried the coffee black first and was surprised at the sweetness and fruitiness. I don't usually drink coffee black.  I then added my sugar and half & half, watched the morning news and really enjoyed this flavor of Coffee.  I give it a 3 out of 5 stars.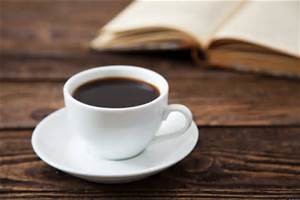 There is no need to add salt to the brew filter before brewing to stop a bitter brew because it's not bitter.  I know many people do that almost like a habit.