Okay, back to the grind. It's the day after Christmas, all those people that didn't like their gifts will be in long lines returning them.
Me?! I will be here blogging and enjoying a couple cups of coffee.  Later today, I will be painting, artistically, not the walls, LOL.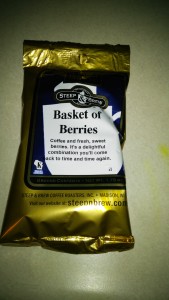 When I opened this coffee package an aroma of berries hit the air and made my kitchen small like a berry farm. I liked that.  While brewing this coffee the aroma was slight, not very strong. I would have to say that it was a Blueberry scent in the air.
This brew is not bitter, it's rather fruity and sweet. Reminds me of blueberry pancakes. I would even say, tastes a bit like the Boo-berry cereal. I can't taste any other kind of berry in this but I'm sure there is some other berry added.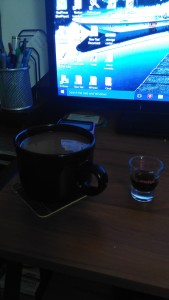 This coffee smelled so good that I only added my 3 sugars and plain whole milk.  I didn't want to change the flavor with cream or half and half. This is a really good cup of joe. I think I will make this one of my regular daily brews.  It's made by Steep & Brew out of Madison, WI. Get yours at www.steepnbrew.com
Love this flavor!