Today I took my wife th Panera Bread.  I ordered a Mocha latte and an Orange Scone. My wife ordered Caramel Latte and a berry muffin.  The Latte's were $3.99 each and the pastries were a little less in the $2.60 range, $13 and change in total.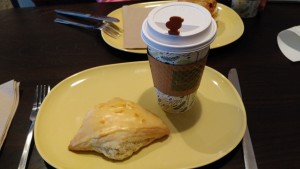 We started off with our pastries while waiting for the coffee.  Delicious pastries!  Then our coffee was ready to pick up.  We usually put a couple sugars in the latte because we have sweet tooth's,  today we didn't.  I took a sip of my coffee and it tasted weird. I thought it might have attributed to the fact that I just had an Orange Scone and my pallet was just being deceived.  I took a few more sips and just couldn't drink any more.  It tasted to me like rancid chicken smells. Awful tasting coffee.  I'm not the type to make a seen if there is a problem or an order is wrong, etc.  I just stop buying at that business and now I can blog about it.  When a customer buys something from a business, it should be the best product they can serve.  That being said, why didn't anyone check the cocoa, milk or coffee brew time before making that cup of latte?
I will still buy pastries from Panera Bread but will not order any coffee from there again.